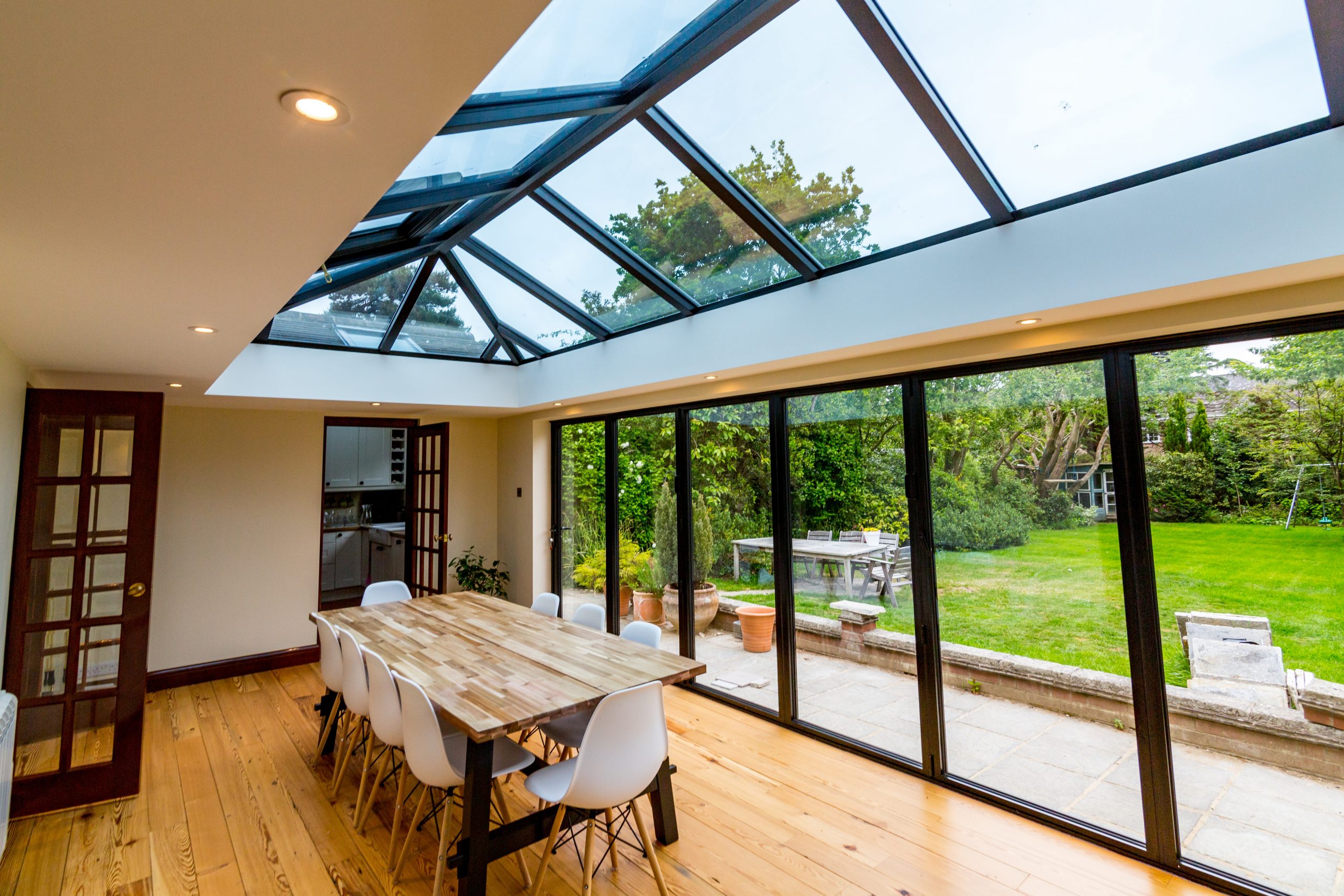 How to design an amazing bespoke conservatory
Posted. 25 February 2021
Tags. Family,
Set on getting a new conservatory, but determined to get a structure that matches your vision? You might want to consider designing your own bespoke conservatory. 
Want to know more? Read on to learn about getting a custom-made extension and whether it's the right choice for you.
What is a bespoke conservatory?
Most people know what a conservatory is — a mostly glass extension to a property. But what does it mean to get a bespoke conservatory? Well, these conservatories are a little bit different in that they're designed and fitted to your exact specifications.
All conservatories will need to be fitted to a home's individual measurements, but going down the bespoke route gives you much more control over everything that goes into the design and construction of your structure.
When you think of a bespoke conservatory, you might think of flashy design details and expensive materials, but this isn't always the case. Custom-built conservatories can be large and bright or small and cosy; modern with a sleek aluminium frame or understated with wood-grain finished uPVC.
Every home is unique, so it's understandable that many people are hesitant towards some installer's one-size-fits all approach. 'Made-to-measure' is appealing enough when you're purchasing smaller things, like tailored suits or picture frames. It's no wonder that bespoke is a popular choice for home renovations!
What details can you change? Well, as long as your conservatory remains structurally sound, there are no limits. Not a big fan of exposed guttering? Ask for guttering-hiding cornices. Unsure about having a glass roof? Discover your tiled roof options
>At Launa, we're experienced in fitting made-to-measure conservatories to properties limited by awkward space and working with the unconventional shape of many gardens. While other companies might see these 'limitations' or 'obstacles' as dealbreakers, we think they're opportunities to create some wonderfully unique designs.
What can I do with a bespoke conservatory?
If you want our opinion — anything and everything! Rather than buying a structure that numerous other homes have too, bespoke conservatories give you the chance to work with your manufacturer to add some personality and stylistic flair. 
If you give us a call, we'll work with you to create a thought-through plan that ticks all your boxes in terms of design, functionality, materials, and budget. 
If you're wondering what you can do with a bespoke conservatory 'practically', the answer is the same as what you can do with a standard conservatory. As a great indoors-outdoors hybrid space, your extension can be used as a dining space, seating area, home office, playroom, or just a bright and airy gateway to your garden.
As modern conservatories are now made to be excellent at retaining heat in winter and staying cool in the summer, the fact that your space is a 'conservatory' shouldn't stop you from using it for anything you want. Cosy it up with underfloor heating or opt for glass all the way round for a bright summer house feel.
Whether you're hoping to use your extra room to entertain guests, as a private reading nook, or to keep all your plants, these are all perfectly feasible options.
Shape
Standard conservatories tend to come in a square-ish shape. But this is just what's conventional, not a physical limitation. It's very possible to design and construct a conservatory in another shape to work with your available space or shape of your outdoor area.
At Launa, we're often fitting T-shape or L-shape structures and ones that you might describe as 'long' and 'sweeping'. 
We also find that we're always mixing traditional features with modern designs. For example, we find the best classic Victorian or Gerogian features for a space, and then add some personalised twists. This is a great option to consider if you like the idea of a made-to-measure conservatory, but not if this means getting something uber modern.
Style
Though getting a well-made and well-fitted conservatory is the most important thing, you might want to consider adding some stylistic touches to your conservatory. 
If your home is older or has a traditional style, some ornate flourishes can tie your whole property together. If your home is modern, a conservatory with classic features might look a little out of place. Don't just think about what you like the look of in the showroom, but what will look best with your home — they're not always the same thing!
Roof
Worried about getting enough light in your solid roof conservatory? Think about installing a roof lantern. These aesthetic roof-mounted windows allow sunlight to fill the room and are perfect for letting natural light hit a focal point in the room, like your dining or coffee table.
Personal Touches
Even if you like standard Victorian or Georgian style conservatories, you can still add a bespoke finishing touch. And the best way to do this is by installing decorative glass. Choose between leaded glass or Georgian-style bars for easy cleaning. 
At Launa, we make all our windows in our South West factory, so we can custom make your perfect design.
Is a bespoke conservatory worth it?
Whether a made-to-measure conservatory is the best option for you is down to your conservatory needs. If you have a typical space for your structure and you prefer standard designs, going bespoke might not be worth it for you. 
This being said, your extension will be a permanent structure, so it's important to get it right. If you have unique requirements, want to use specific materials, have a clear aesthetic vision, or have limited space, then getting a custom conservatory is the logical choice.
How we can help
At Launa, we're pleased to offer our bespoke conservatories with a 10-year manufacturer's guarantee. Ready to discuss the details? Give us a call for a no-obligation quote or drop by our Exeter showroom to see some examples in person. Just looking for some inspiration? Browse our brochures.