Lasting products, guaranteed
We stop at nothing to ensure all of our products are top-quality so that your home improvements last for years once they're installed. And, as a show of faith in our work, everything we install comes with a comprehensive guarantee.
If, within a decade of their installation, you encounter problems or defects with your products, we will – at our discretion – repair or completely replace your PVCu or aluminium windows and doors for free.
For our full terms and conditions, read the reverse of our contract or contact us (preferably with your contract and bill of sale handy) to help us check that you're still covered by our guarantee policy.
Your new windows and doors will stay in good condition for the longest if they're properly maintained and cleaned. This shouldn't mean, constant effort or expenditure on your part — just a little care and attention can keep your windows and doors looking and feeling fresh for many years. Below you can find our best advice on how to keep your Launa products in good shape, with further information on the terms of our guarantee.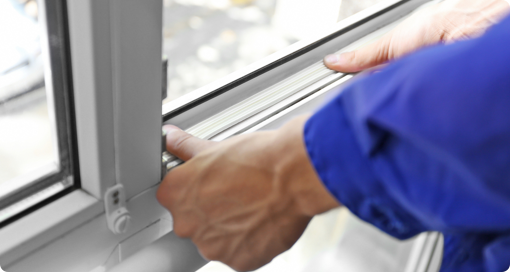 uPVC Care
Looking after your uPVC home improvements is simple
To clean your windows and doors, just wipe them down as needed with warm soapy water. Do, however, avoid solvents and corrosive fluids, as well as any abrasive cleaning surface. These can damage your uPVC's finish or (in extreme cases!) attack its chemical structure.
Sometimes,  particular marks won't simply buff out — these can be removed with a specialist uPVC cleaner.
Prevent condensation by clearing any debris from the drainage slots between the bottom of the window and its external sill, and from inside open windows' sashes. 
Glass Care
All glass used by us will be of good quality, but may feature very minor imperfections and blemishes. We assess our glass according to Glass and Glazing Federation guidelines.
Simply applying as needed a non-smear glass cleaner with a paper towel should keep your glass looking shiny and new.
Spray the cleaner straight onto the glass, not neglecting the corners, then wipe down vigorously with the paper towel until the window is nearly dry. Then, buff until dry with a fresh towel. Repeating this process for the outside of the window until you can see your reflection in it will give the very best finish.
External Glass
Clean every four months.

Remove grit and grime with warm soapy water.

Finish with a glass cleaner.

Only ever use a soft cloth or paper towel.
Internal Glass
Clean once a month or as needed.

Finish with a glass cleaner.

Similarly, only ever use a soft cloth or paper towel.
Hardware
Any metal-to-metal joints (except those with nylon bearings) should be lubricated once a year with a light engineering oil like 3-in-1. Example of these kinds of joints include friction stays, hinges, espagnolette, gearing mechanisms, shootbolts and locking mechanisms.
Rollers on door bolts, espagnolettes and shootbolt mechanisms that engage with locking keeps should be lubricated once a year with a light grease, such as lanolin.
How to keep your hardware clean
Clean your window furniture at least every four months.

Use a soft duster or a damp chamois cloth to remove dust and dirt.

The better the quality o the cleaner, the less often you'll have to clean

Make sure to avoid abrasive products and solvents like metal polish, acetone and steel wool.
Cleaning tips
Removing all rings, bracelets and watches before cleaning glass can help to prevent accidental scratching.

Make sure never to walk on a bay roof or lean a ladder against frames, glass or guttering. If access is required above a large bay window, tower fixed scaffolding is recommended.

Use the correct cleaning technique for each part of the window to keep them looking their best.
Handles
Simply wipe with a damp cloth and dry thoroughly to remove dirt and dust.
Seals
Effective weather seals increase insulation and prevent irritating draughts. To keep them in full working condition, clean them with a damp cloth. Should a seal become dislodged from its grooves, gently slide it back into position to avoid damage.
Composite doors
Composite doors are tough and hard-wearing, making them easy to take care of. Here's how to care for each part of the door:
Door Leaf
Remove grime and dust with warm soapy water and pat dry with a soft cloth.
Door frame
Use warm soapy water, although you may find a specialist uPVC cleaner better removes stubborn blemishes.
External glass
Employ warm soapy water and a soft cloth. Finish with a reputable glass cleaner.
Leaded glass
Again, wash with warm soapy water and a soft cloth and finish with a reputable glass cleaner. Oxidation will occur perfectly naturally over time.
Hardware
Use a clean cloth and warm water with a mild detergent. Simply wipe to a shine. For continued smooth running, apply a light engineering oil such as 3-in-1 to all moving parts without nylon bearings, especially if your home is on the coast or near to an industrial site.
Hinges
Lubricate with a light engineering oil of your choice.
Cylinder locks
Employ a Teflon-based lubricant, and make sure to use neither oil nor graphite powder.
0% APR representative on orders over £3,000
We have various low-cost finance options available. Get a quick quote and apply for finance at the same time.
Customer stories
We pride ourselves on outstanding customer service and enjoy hearing your experiences of our products in your homes.