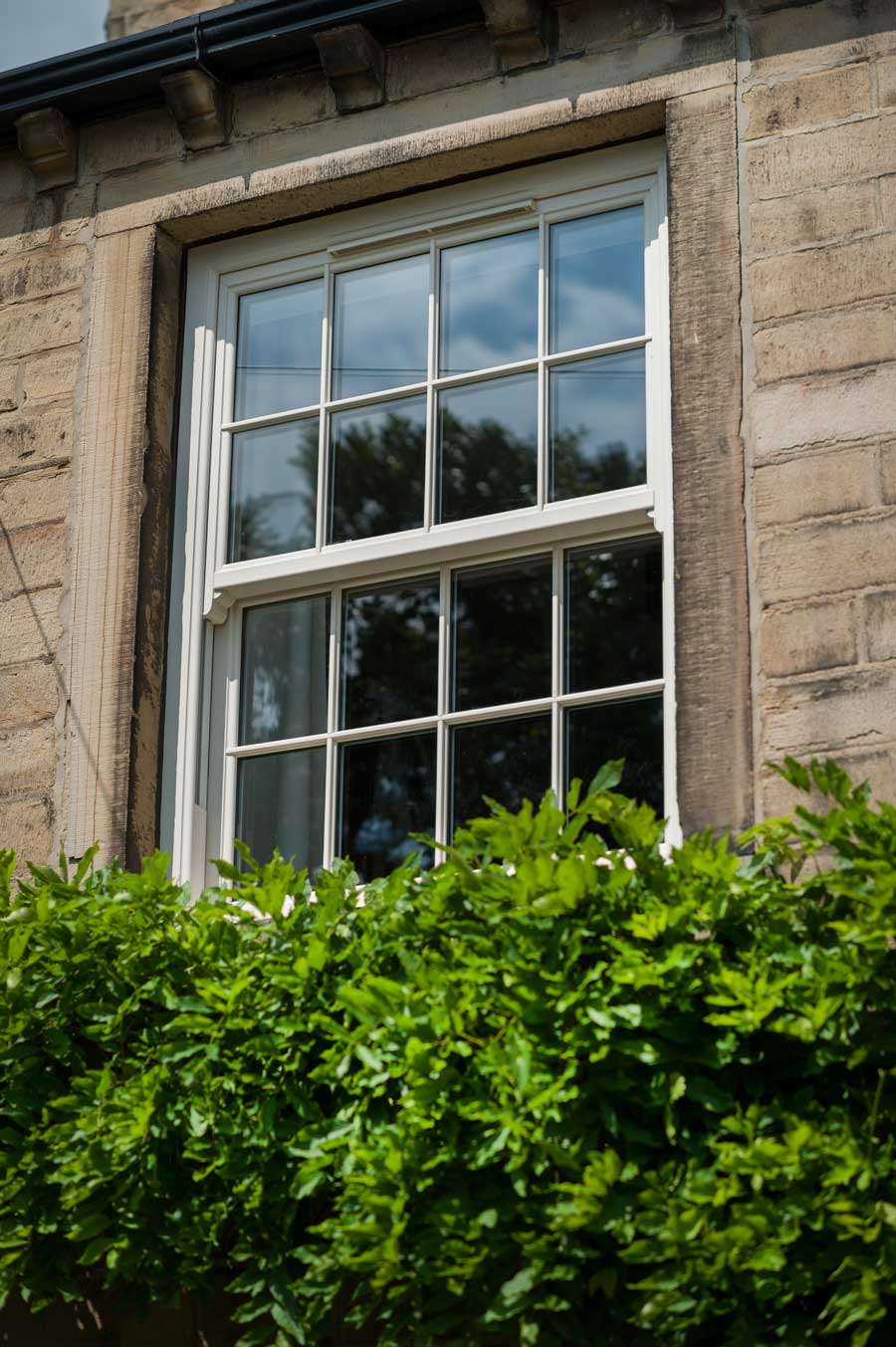 What to Look for When Buying New Windows
Posted. 30 March 2021
Tags. Family,
Overwhelmed by window choice? The window industry has transformed since the last time you got your windows fitted. New styles, new colours, new glazing options… With so many possibilities, it's easy to give up and just decide to replace your windows like for like. But you'd be missing out!
In this simple guide, we'll go through the elements you'll want to consider when buying new windows. At Launa, our goal is to provide you with practical, beautiful new windows that you'll love for decades to come. Let's get started.
In this article:
Frame material 

Window style 

Energy efficiency 

Cost 

Colour 

Conversation restrictions 

Decorative glass

Security 

Sun glares 

Maintenance and Cleaning

Keeping out draughts and noise
Frame Material
The frame material you choose when buying new windows is important. The right one for you will depend on your budget, your priorities, and what aesthetic you're going for.
uPVC
This is our most popular frame material. uPVC is durable, insulative and comes in a range of stylish colours, including wood-grain effect. It's also more cost-effective than other options in our range – great if you're on a budget! Make sure you buy your frames from a reputable trader, as poor quality or poorly-fitted uPVC windows won't last very long.
Aluminium
Sleek and elegant aluminium frames may cost a little more than uPVC frames, but they're well worth the money. The metal is extremely strong, so the frames can be slimmer than they'd be for the same size uPVC window. That means a larger glass surface area, more expansive views and more light. 
Aluminium will also last longer than uPVC, so it's a good investment. With a variety of colours available, you can ensure the frames complement your home perfectly.
Shape
Standard conservatories tend to come in a square-ish shape. But this is just what's conventional, not a physical limitation. It's very possible to design and construct a conservatory in another shape to work with your available space or shape of your outdoor area.
At Launa, we're often fitting T-shape or L-shape structures and ones that you might describe as 'long' and 'sweeping'. 
We also find that we're always mixing traditional features with modern designs. For example, we find the best classic Victorian or Gerogian features for a space, and then add some personalised twists. This is a great option to consider if you like the idea of a made-to-measure conservatory, but not if this means getting something uber modern.
Window Style
The perfect window style for you will depend on the type of home you have, but it can also vary from room to room. 
Cottage-type homes look great with traditional sash or French windows, but we often find that tilt-and-turn windows are a practical option for kitchens in any home. Top-hung casement windows with frosted glass are the go-to for bathrooms as they afford privacy and ventilation. 
Have a look at our brochure or pop into our showroom in Exeter to see the styles for yourself!
Energy Efficiency
These days, most new windows come with double glazing. Still, it's always worth asking your provider about the energy efficiency of their products. Insulative windows will reduce your carbon footprint and keep your energy bills low, so you'll be glad you made the switch!
At Launa, we sell A-rated double glazing as standard. We've developed the perfect gap size and insulative gas between our glazing panels for optimum insulation as well. If you live in a particularly chilly or rural area – we know how icy those sea breezes can be – it might be worth going a step up. Have a look at our triple glazing options, or our Super Energy Efficient glass, which will keep your house snug even in midwinter.
Is a bespoke conservatory worth it?
Whether a made-to-measure conservatory is the best option for you is down to your conservatory needs. If you have a typical space for your structure and you prefer standard designs, going bespoke might not be worth it for you. 
This being said, your extension will be a permanent structure, so it's important to get it right. If you have unique requirements, want to use specific materials, have a clear aesthetic vision, or have limited space, then getting a custom conservatory is the logical choice.
How we can help
At Launa, we're pleased to offer our bespoke conservatories with a 10-year manufacturer's guarantee. Ready to discuss the details? Give us a call for a no-obligation quote or drop by our Exeter showroom to see some examples in person. Just looking for some inspiration? Browse our brochures.
Cost
We appreciate you'll be working within a budget when it comes to home improvements. At Launa, our job isn't to persuade you to buy the best windows on the market. We're here to help you choose the windows that will work best for you and your home. 
One tip is not to go for windows that are priced so low it seems too good to be true – chances are, it will be! Windows are an investment and they'll pay for themselves in time. At Launa, we offer flexible finance options so you can get the windows you deserve. Remember, new windows aren't just an investment for you, they'll also add value to your home when you come to sell.
Colour
Who said windows always had to be white? You can choose from contemporary grey to warm wood-effect colours. Why not try an understated colour, like Chartwell green, for some timeless elegance? 
We also have warm cherrywood and sleek oak effect in our standard range, or a variety of wood styles and painted-wood effect colours in our premium range. We've seen an increase in contemporary grey windows in the last few years, which add a modern touch to any home.
Changing the colour of your windows can give your home's exterior a whole new look, so choose carefully!
Conservation Restrictions
If your home is listed or you live in a conservation area, you'll have to be more careful of which new windows you choose. In most cases, the replacement windows have to retain the original character of the building, so you might be tied to a certain style or colour. 
Wooden-effect flush casement windows can be a great replacement for rickety wood frames. Equally, aluminium windows can be a great solution if your home currently has steel windows. Contact us today to discuss the best window options for your traditional property.
Decorative Glass
Decorative glass is a great way to add some personality to your windows. Add a pop of colour, include some traditional leading, or choose from our wide range of frosted glass styles. 
These days, you can have elegant Georgian bars fitted between the two panes of glass. This means your windows retain a distinguished appearance while remaining effortless to clean – the best of both worlds!
Security
Well-fitted windows should be durable and extremely secure. When you're looking for new windows, do some research on the locking mechanism and the type of glass used. 
At Launa, we use the Nico Shootbolt security system, which offers class-leading strength and resistance to force. We also chose them as they have exceptional corrosion resistance, making them ideal for coastal homes in and around Exeter. 
It's also worth finding a window provider that is affiliated with an external security initiative. This proves that they're dedicated to protecting you and your home. Don't be afraid to ask your provider to install toughened glass in your ground floor windows and doors. The additional layer of protection will give you extra peace of mind – and that's priceless. 
Find out more about keeping your house safe and secure.
Glare from the sun
If you have large windows or a conservatory, you might notice that you get an awful lot of glare from the sun. Those afternoon rays might be perfect for enjoying a picnic in the park, but they're not what you need when they're reflecting off your computer screen or fading your soft furnishings!
If this is an issue you face, look out for UV filter glass. This will protect your furniture and books from sun damage. It'll also make it much easier to look at a screen, whether it's for work or Netflix!
Maintenance and Cleaning
Nobody likes cleaning windows, do they? If you struggle to clean your windows, especially on higher floors, you can choose certain styles that make them easier to clean. Our sash windows tilt inwards for easy cleaning, or you can choose tilt and turn or French windows that allow safe cleaning from the inside.
At Launa, we also offer self-cleaning glass. It has a special film that breaks down dirt that accumulates on your windows. Then, when it rains, all the grime just rinses off! Contact us today to find out more. 
Keeping out draughts and noise
Good-quality windows will greatly improve sound and draught reduction. This is because they'll have a special airtight seal, so that when you close them, it's much harder for cold air and annoying sounds to get through. 
Double glazing usually does a good job of blocking out most external noise. However, if you live in a particularly noisy area and you're craving some peace and quiet, then it might be worth upgrading. Our Stadip Silence laminate does a fantastic job at cutting out sound without adding any thickness to your windows. If you don't mind a thicker window and you'd also like increased insulation, you could also go for triple glazing. 
Choosing new windows for your home is an exciting time. We know you want to get it right, which is why we're always on hand to offer advice. Contact us today or drop into our Exeter showroom and we'll help you find the perfect windows for your needs.